Blushing/Flushing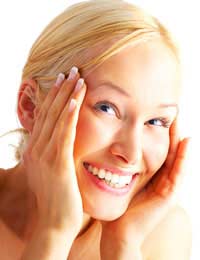 Sounds like a silly question doesn't it? But frequent or excessive blushing can be an embarrassing problem. And when we are embarrassed we blush. So for the person dealing with Erythrophobia another name for the condition of spontaneous frequent blushing, which literally means "Fear of Blushing" – it can be a vicious cycle during social situations.
We live in a society where first impressions are very important. Dealing with uncontrollable blushing or flushing in a situation such as a first date or a job interview can be really problematical. Such circumstances can be stressful for anyone, but the person who suffers from excessive blushing can send a very wrong signal. Frequent or uncontrollable blushing is often accompanied by excessive sweating. In a new social interaction as just described, blushing and sweating can have you perceived as a person with something to hide by the date or the interviewer. You can only imagine what it could be like for someone with uncontrollable blushing to be pulled over by a police officer.
Why Do We Blush?
All humans blush. In fact among the entire animal kingdom it seems that blushing is a uniquely human trait. We have all blushed at one time or another, usually at an embarrassing or less then opportune time.
Blushing is a sudden and involuntary reddening of the face, neck and ears. Accompanying the blush there can be a rapid heartbeat, and a sensation of tingling throughout the whole body. Blushing is also usually accompanied by a feeling of fear, sometime intense terror. Blushing is an involuntary physical reaction to an emotional state of fear or embarrassment. Physically the sympathetic (involuntary) nervous system reacts to confusing signals from the brain and opens blood vessels causing blood to rush to the surface capillaries of the face and neck, thus the reddening and sensation of feeling hot or flushed. Blushing seems to be something most people grow out of. As we become more experienced and less fearful of the world around us, we tend to blush less. That is for most of us. Yet there is a segment of the population that continues to blush far to easily well into adulthood. And for them the condition can be maddening in social situations.
Why Frequent or Uncontrollable Blushing?
There can be a number of reasons both emotional and physical for more frequent than normal blushing. One of the most common reasons for uncontrolled blushing in woman is menopause. The so-called "Hot Flashes" that come with the hormonal changes of menopause are a kind of uncontrolled blushing. Other physical reason for frequent or uncontrolled blushing or redness of the face can be:
Eating hot or spicy foods
Certain Medications
Excessive Heat
Excessive exercise
Fever
Allergic reactions
Treatments for Excessive Blushing
Treatments for excessive blushing should they be necessary really depend ultimately on the cause for the condition. If your healthcare professional has ruled out a physical reason for the blushing and it is a nervous or emotional response to stress and social situations, a course of behavior modification and talk therapy may be employed. Such treatment is designed to achieve the goal of you feeling stronger and more confident in social situations, and less likely to blush. Since blushing is an emotional response to fear or panic, anti-anxiety medications may be recommended. Beta-blockers that are used to reduce high blood pressure by slowing the heart rate may also be suggested, as may be medications that dilate the blood vessels.
In severe circumstances were a patient continues to blush uncontrollably, and none of these other methods seem to have an impact, there is a surgical procedure that has been used. It is called endoscopic thoracic sympathectomy, or ETS. During the simple and painless procedure some of the nerves that control the flow of blood to the face are severed therefore limiting the face's ability to blush or flush red. People who have had the problem of excessive blushing to the point where it was adversely effecting their careers and social life who underwent the ETS procedure have said it made a dramatic improvement in their lives.
You might also like...