Cloasma or Melasma: Skin Darkening During Pregnancy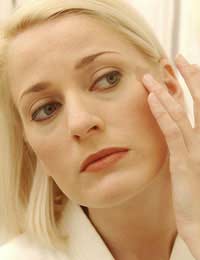 Nearly all women experience skin changes during pregnancy, and for the vast majority these change include some form of skin darkening. Skin darkening during pregnancy is the result of hormonal changes and usually fades a few months after delivery, but for some women and in some areas of the body the skin may never return back to its pre-pregnancy shade.
"The mask of pregnancy", also known as cloasma or melasma, is a common type of skin darkening during pregnancy. Other areas often experience increased pigmentation as well, though there are a variety of methods for coping with these changes. While most skin darkening during pregnancy is entirely harmless there may be some other symptoms which require medical advice.
The Mask of Pregnancy
Cloasma or melasma, known informally as "the mask of pregnancy", refers to a condition in which blotches of darkened skin appear on a pregnant woman's face. These blotches may appear on the upper lip, nose, cheeks, cheekbones, forehead and/or jawline. For some women these blotches may appear to join up and form a mask across the cheeks, up the temples and across the forehead. The blotches are usually brown in colour, though they can range from light to much darker and do not tend to be uniform so each blotch may be a different shade. This condition is usually more pronounced in women with darker complexions and women with pale skin and dark hair, and it can become more pronounced with each pregnancy.
Areas of Skin Darkening During Pregnancy
In addition to the mask of pregnancy other areas of a woman's body may experience skin darkening as well. Skin which is already pigmented, such as the nipples and aureolas, near the genitals, freckles, moles or fairly new scars, is more likely to darken during pregnancy. Skin which is subject to more friction, such as under the arms and on the inner thighs, is more likely to darken during pregnancy as well. Sunlight may affect skin darkening during pregnancy so skin which is often exposed to the sun, including the arms and legs, may darken with repeated or prolonged exposure. In some women a line of darkened skin may appear down their bellies during pregnancy. This line is called a linea nigra and is fairly normal during pregnancy. Like the mask of pregnancy and other areas of skin darkening, this line often fades following delivery.
Coping With Skin Darkening During Pregnancy
Skin darkening due to pregnancy tends to reverse itself following delivery, but women do have a few options for coping with these changes during pregnancy. Gentle, unscented cleansers and moisturisers will help keep the skin calm and less likely to have to deal with further irritation. Using make-up to conceal dark patches or to even out an uneven complexion often makes women feel more confident. Wearing sunscreen, sunglasses, a sun hat or other barrier method of sun protection should limit darkening due to sun exposure. Some women become tempted to use skin bleaching creams to deal with darkening during pregnancy but this is not recommended. Skin tends to naturally lighten after pregnancy, and such creams can contain a variety of chemicals and other ingredients which may not be advised during pregnancy.
Medical Advice And Skin Darkening During Pregnancy
Though most skin darkening during pregnancy is entirely natural and will resolve itself, medical advice should be sought if other symptoms accompany this skin change. If there is any pain, tenderness, redness or bleeding you should consult your GP or midwife. Any changes to the size, shape or colour of moles should be inspected by a GP or dermatologist. Severe itchiness or puffiness should also be reported to a medical professional. If, several months following delivery, you are not pleased with the extent to which skin darkening has resolved itself you could also book in with your GP to discuss your options.
You might also like...