Coping With Razor Bumps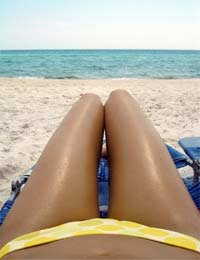 Razor bumps, the unsightly consequence many women must bear for shaving body hair, can be embarrassing for many women. Irritated skin is not pretty to look at, and it can be itchy or otherwise painful for those who suffer from it. Razor bumps are particularly common for women who shave their bikini line, which means that wearing a swimsuit or underpants can exacerbate the irritation even more. To make sure you don't have to cope with razor bumps more than strictly necessary learn about what causes razor bumps, how to treat them when they do occur and how to avoid them in the first place.
Causes of Razor Bumps
Razor bumps, more technically known as pseudofolliculitis barbae (when it occurs on the face) or pseudofolliculitis pubis (when it occurs in the pubic region), occur when curly hair is shaved but curls inward when it grows back rather than growing outward. This leads to small, inflamed red bumps which may look like spots. The skin often looks itchy and feels uncomfortable, especially when it is rubbed by clothing or a swimsuit. Scratching may lead to worse problems, however, such as an infection. If an infection sets in then the bumps may turn into pustules and become more painful or warm to the touch. Scarring and even keloid scarring may result from leaving razor bumps, particularly those which become infected, untreated.
Treating Razor Bumps
Treating razor bumps isn't labour intensive but it does require patience. At the very least you must be prepared to let the hair in the affected area grow, so becoming comfortable with slightly less stringent grooming standards in that time is a must. The next time you find yourself afflicted with such irritation:
Use a cloth to gently rub over new bumps to help loosen hair inside.
Letting hair grow, unshaven, for several weeks.
Treating any infections with antibacterial agents.
Avoiding scratching, picking or touching as much as possible.
Using a mild steroid cream to ease any associated inflammation.
Seeing a GP to determine if an infection requires antibiotics or further care.
Allowing hair to "spring" back out of the bump.
Use clean, sterilised tweezers to help dislodge any embedded hair.
Do NOT pluck hairs, simply allow them to grow outward again.
Avoiding Razor Bumps
Of course the best scenario regarding razor bumps is to not have to cope with them at all! There are several ways you can prep your skin and adjust your hair removal regime to minimise the risk of unsightly irritation. Remember to:
Take a hot bath or shower to allow pores to open and hair to soften.
Use a thick, creamy shave gel or foam.
Shave in the direction of hair growth (usually downward).
Avoid stretching skin or pulling it taut when shaving.
Always use a sharp or new razor when shaving.
Apply a moisturising or soothing lotion after shaving.
Avoid "wet" shaving and use an electric shaver instead.
Experiment with other hair removal options such as creams or laser hair removal.
Razor bumps are an ugly, embarrassing condition from which many women suffer when they shave their body hair. Understanding what causes razor bumps, how to treat them and how to avoid them in the first place should help you cope with this irritation as infrequently as possible.
You might also like...