Exploring Poor Hearing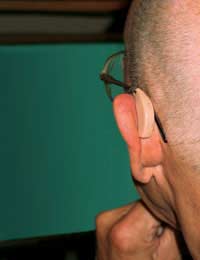 Poor hearing can have a negative effect on an individual's quality of life, but many people find the condition and/or its treatments so embarrassing that they would rather live with it than do anything about it! Rather than an embarrassment, declining hearing should be viewed as a health warning sign and explored as such immediately. If you or a loved one has experienced a noticeable decline in hearing be sure to look at its effects on daily life, consider possible causes, visit a medical professional decide on strategies for coping with it.
Poor Hearing and Its Effect On Daily Life
Many people fear being labelled less able if they admit to declining hearing, so instead try to live as though their hearing is unaffected. Unfortunately this often has a negative affect on all aspects of their lives. Ignoring poor hearing often results in an inability to:
Communicate efficiently with loved ones and co-workers.
Use the telephone.
Respond to warning systems like car, house or smoke alarms.
Determine traffic patterns and react safely while walking or driving.
Communicate in quiet settings or with hushed voices.
Perform well at work or school when information or instructions are given verbally.
Enjoy aural entertainment including music, concerts, performances and readings.
Possible Causes of Poor Hearing
There are many reasons that an individual could experience poor hearing, though a medical professional should be consulted in order to perform a thorough investigation. Prior to seeing your GP, ask yourself if the poor hearing could be: associated with a cold or ear infection; due to debris or foreign objects in the ear canal; the result of excessive ear wax; a side-effect of a new medication, or traced to a specific incident, such as a loud explosion or musical concert.
Visiting a Medical Professional
When you visit your GP regarding declining hearing, be ready to share with him or her the details of your hearing loss including when it started, if you suspect a possible cause and how it has interfered with your daily life. Be prepared for your GP to inspect your ears and inner ears, as well as possibly your nose and throat. Your GP may also arrange a hearing test and/or refer you to a specialist if necessary.
Decide on Strategies for Coping with Poor Hearing
If you decide not to visit your GP, or if there is no treatment available to restore your declining hearing, you will need to decide on strategies for coping with this new reality. Many people choose to:
Buy and use hearing aids.
Invest in telephones specifically made for the hard of hearing.
Run closed captioning on their television sets.
Directly face the people they speak with so they can read lips as needed.
Request a printed resource when verbal information is given (menus, pamphlets, etc).
Ask others to speak a little bit more loudly if needed.
Avoid conversations in settings with a lot of background noise.
Many adults are embarrassed by declining hearing, even when it is evident to themselves and their loved ones that they are unable to hear as well as they did in the past. Rather than avoiding this reality and drawing out associated frustration, resolve to more fully explore your new reality. Consider the effect poor hearing has had on your daily life, reflect on the possible causes of your declining hearing, visit a medical professional armed with this information and then decide on the best strategies for you to cope with your poor hearing.
You might also like...