Premature Ejaculation and How to Treat It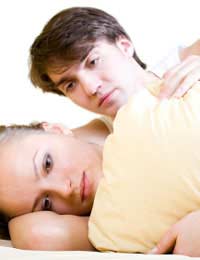 Premature ejaculation, sometimes also known as rapid ejaculation, is a frustrating condition in which men feel they are unable to control when they climax during sexual intercourse. There is no exact definition of how quickly a man must ejaculate for it to be considered premature, though many men believe that anything less than lasting several minutes would be premature ejaculation. All men may be affected by an inability to control their climax at some point in their lives, so a rough estimate that an inability to control climax at least 50% of the time has become a de facto definition of premature ejaculation as a consistent condition. There are a variety of causes of premature ejaculation, as well as common sense techniques to overcome it and more formal treatment options.
Causes of Premature Ejaculation
There are some physical conditions which may cause premature ejaculation, such as urinary tract infections or prostate problems, but for most men premature ejaculation has at least some psychological component. Many men ejaculate prematurely because their bodies have become attuned to climaxing quickly. Research suggests that for some men this is due to a physiological predisposition, but for many others it is because there were negative emotions which led them to this. Rushing because of feeling ashamed or guilty about intercourse or masturbation could lead to a problem with premature ejaculation, as could repeated or prolonged anxiety about sexual performance. Whether the underlying cause is ultimately physical or psychological, most men find that in times of additional stress premature ejaculation becomes worse.
Common Sense Techniques for Treating Premature Ejaculation
There are many common sense techniques that men can use at home to help them fight against premature ejaculation. The most basic is to start and stop during masturbation or sexual activity. This requires a man to stay aware of his state of arousal and how he feels, particularly about his ability to stop. Men who do this repeatedly should become more aware of how it feels when they approach the "point of inevitability," or the point after which they can no longer control themselves. During sexual intercourse men can change the pace of activities, change position or change stroke to help put off this point. Prior to engaging in sexual intercourse, attempting to resolve any relationship issues and engaging in relaxation techniques such as deep breathing may also help overcome premature ejaculation, as may using condoms specifically advertised to help lengthen the time of an average sexual encounter.
Treatment of Premature Ejaculation
More formal medical and psychological options exist for treating premature ejaculation as well. Antidepressants have been found to help men delay ejaculation and such medications are available with a private prescription in tablet form, though a relatively new nasal spray may also be available. A local anaesthetic gel applied to the shaft of the penis may help "numb" the penis and delay ejaculation, though such a gel could cause skin reactions in either partner or cause "numbing" in the man's partner as well. Counselling may help men overcome negative emotions associated with sex or sexuality which in turn may delay ejaculation, and couples counselling could help partners understand more about their relationships and sex lives together.
Premature ejaculation, or ejaculating very quickly with little control, can be an embarrassing occurrence for a man. There are many potential causes of premature ejaculation, but many common sense techniques to use at home and medical and psychological treatment options as well.
You might also like...
Whenever am making love with my gal i come quickly and am not always happy about it, am Seriously looking for a solution.
doggy05
- 9-Sep-16 @ 10:39 AM
am experiencing something which is really blowing my head so bad, I discharge very quickly as soon as I start making love with my woman..I started experiencing it since 2 months ago.can you please help me out Cause it's makes me feel very bad.
Dovi
- 2-Mar-16 @ 8:34 PM
I come quickly when havin sex..this is embarassin most times and i dont know how to control this..i need help
Zionic lion
- 8-Aug-14 @ 12:12 AM
I have big problem.When a woman starts touching my body i come really quick is there any help.i.can get to sort my problem out gordon
scooter
- 8-Jul-14 @ 3:05 PM