Prostate Problems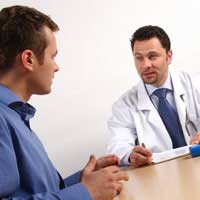 When people think of prostate problems the may immediately think of prostate cancer. Prostate cancer is one of the leading causes of cancer deaths among men. However prostate cancer is also one of the most treatable forms of cancer when detected early. And men have a very good tool to detect prostate cancer in the PSA test. Men over 45 should take an annual PSA test to screen for prostate cancer but there are other far more common problems of the prostate than cancer.
What is the Prostate?
The prostate is a gland. But unlike the major glands that are part of the endocrine system, which deliver their product directly into the bloodstream, the prostate is what is known as an exocrine gland. Exocrine glands secrete their products into the body via ducts. The prostate is also considered part of the male sex organs. The prostate serves two functions, to help regulate the flow of urine from the bladder and to manufacture and secrete one of the components that make up semen. The prostate is about a walnut sized organ located just below the urethra the common duct that delivers both urine and semen out of the penis.
Prostate Problems
The two most common problems of the prostate depend on your age. The most common problem with the prostate for men under 50 is a condition called prostatitis. For men over 50 it is a condition called Benign Prostatic Hyperplasia, or BPH.
Prostatitis – is an inflamed prostate. With prostatitis you may feel a burning sensation when you urinate. You may feel the need to urinate more often that usual. There may be an accompanying fever. As with any kind of inflammation, the inflammation of prostatitis is usually a response to an infection. In this case bacteria. This is what is known as bacterial prostatitis. It is treatable with antibiotics. In some less common cases the inflammation cannot be traced to any kind of bacterial infection, and will not respond to antibiotics. Then you have non-bacterial prostatitis There is no one cause for non-bacterial prostatitis, and therefore no single treatment, your doctor will work at a treatment best suited to your symptoms and lifestyle.
Enlarged Prostate or BPH – Most men over 50 report some problems with urinating. Most of the time these problems can be traced to an enlarged prostate, or the condition known as BPH, Benign Prostatic Hyperplasia. As men grow older the prostate continues to grow, as it grows it sometimes becomes so large that it presses against the urethra. This pressure can result in the following symptoms:
Frequent urge to urinate, sometimes getting up many times during the night to use the bathroom.
A weak stream of urine
Inability to maintain a constant stream of urine
Dribbling or leaking even after the you have finished urinating
A feeling that your bladder is never really empty
Treatments for BPH
BPH is common in most men over 50 – it is the leading cause of urinary incontinence in men. It has been well studied and fortunately very treatable. The symptoms of BPH may often accompany prostate cancer, but there is no evidence that BPH causes or leads to prostate cancer. If the symptoms of BPH are not too severe some men just choose to live with it – but if your troubles with urination due to BPH are negatively impacting your life on a regular basis treatments for BPH include:
Medications – There are several medications that have been developed that can shrink the prostate, and relieve the pressure it is exerting on the bladder
Transurethral Techniques – These are minimally invasive procedures where a doctor will insert a small tube (using anesthetic of course!) through the urethral opening of the penis to apply treatments directly to the prostate designed to shrink it.
Surgery – Your doctor may perform open surgical technique to remove parts of the prostate to reduce its size
The prostate serves a necessary function, but it is one of those body parts that unfortunately can cause some uncomfortable if not common problems. Fortunately most of them are treatable. However since prostate cancer can be a serious, even fatal disease, any suspected prostate problems should be brought to the attention of your physician without delay.
You might also like...