Helping Someone Else Seek Help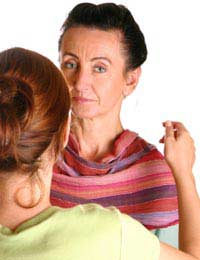 Identifying someone else's embarrassing condition can be awkward, but in the end it is the necessary first step towards helping someone you love get help. When you want to help someone else get help you might discuss your worries for them, help them research self-help methods, contact medical professionals, attend medical appointments and assist with treatments. Just remember, though, that you are only a help to that person if (s)he wants it. If you jump in where you're not wanted then you may be more of a hindrance in the process of that person getting help.
Discussing Your Worries
Discussing your worries about someone else's health and well-being is a delicate situation. On the one hand you want to express your concerns and ultimately show that you care about that person, but on the other you don't want to insult that person or make him or her feel bad about themselves. Remaining supportive throughout the discussion and keeping the focus on you ("I'm worried about your happiness" "I don't want to see you suffer needlessly" "I would feel better if...") should help keep anyone from feeling persecuted. This would also be a good time to offer your help in the future, and to make sure that the person you're concerned about agrees to let you into his or her life in this way so that you know that you are not overstepping in the future.
Researching Self-Help Methods
Researching self-help methods for someone else shouldn't be too hard, but make sure that you present your findings as options from which that person can choose. Of course you have the right to make recommendations ("It seems to me that doing XYZ might fit best in your daily routine"), but make sure that you are always tactful and never force your opinion on another person. Remember, you are helping that person get help, not taking over his or her life.
Contacting Medical Professionals
Contacting medical professionals on someone else's behalf should be no harder than calling in for an appointment on your own. Generally, contacting that person's GP is the best place to start as the GP can then make referrals as needed. You may need the other person's date of birth, NHS number or contact information to make the appointment so make sure you have that person's permission to do this. Be ready to provide a simple summary of why the person would like the appointment ("To discuss body odour" or something similarly brief) and prior to the appointment help that person summarise his or her symptoms and what (s)he has already tried to rectify the condition. Also help him or her come up with questions that (s)he wants to ask and topics (s)he might want to discuss.
Attending Medical Appointments
Sometimes people might ask you to attend medical appointments with them. If you are asked, make sure you understand what role that person would like you play during the appointment. Are you meant to offer emotional support only? Will you be in charge of any explanations or questions? In what capacity are you attending the appointment? Whatever the case, make sure to bring a notebook and pen so that you can write down the information that you or your friend may have trouble processing during the appointment. Clear notes can come in very handy once you leave and your friend begins to feel on his or her own again.
Assisting With Treatments
If you are the one who helps a friend seek at home or medical treatment for an embarrassing condition then it only seems fair that you would also offer to help him or her with the chosen treatment. This can be as simple as helping him or her shop for supplies, reminding him or her to take medication or helping him or her judge if treatment results are adequate. Again, ask permission before making yourself such a fixture in your friend's life, and make sure that if you take on such a role you can continue with it successfully. Leaving a friend feeling abandoned could easily be counterproductive to any help (s)he found to that point.
Helping someone else seek help for an embarrassing condition will likely require dedicating your own time and energy to try to solve the problem. Discussing your worries, researching self-help methods, contacting medical professionals, attending medical appointments and assisting with treatments are just a few of the ways you might be able to help someone else seek help for an embarrassing condition.
You might also like...