Incontinence During Pregnancy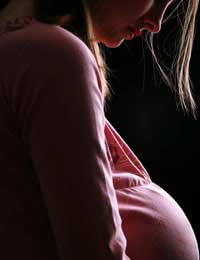 Incontinence, or the involuntary leakage of urine, is common during pregnancy. Unfortunately, the sensation of leaking urine can be unnerving, accidents can be embarrassing and the idea of being unable to control one's bladder can be disheartening. To most effectively cope with incontinence during pregnancy women should know why it occurs, what they can do about it and when they can expect it to stop.
Why Incontinence Occurs During Pregnancy
Incontinence that occurs during pregnancy is often a form of stress incontinence. More stress is placed on the bladder by the expanded uterus so urine leaks out of the bladder from the extra pressure. Incontinence may also occur because the bladder itself and/or the urethra have moved during the pregnancy, somehow the nerves affecting the bladder have been damaged, or because women experience an overactive bladder in which muscle spasms affect the sphincters which would otherwise keep urine in the bladder. Some women may also notice that they do not leak urine until certain extra pressure is exerted on their bladder, for example from a cough or sneeze, but are otherwise able to control their bladders throughout their pregnancies.
Treating Incontinence During Pregnancy
The most common methods of treating incontinence during pregnancy are simple behavioural modifications. Tracking patterns of urination can help women determine when they urinate and when they leak, often leading to greater understanding of their condition. Timing urination to just before times of common leakage can help keep accidents from happening. Later, postponing the time of urination from 15 minutes then to 30 minutes following the first urge to urinate can help train the bladder to retain urine. If these behavioural modifications do not work, some medication for overactive bladders may be available. As long as incontinence does occur the use of absorbent pads, waterproof mattress covers and bed pads can be helpful in dealing with accidents. If incontinence becomes noticeably heavier, if over the counter protection does not adequately cope with accidents or if you believe that the incontinence is unassociated with pregnancy then do not hesitate to speak with your GP or midwife about your particular symptoms.
Ending Incontinence During Pregnancy
Unfortunately incontinence rarely ends during pregnancy, and often it continues into the postnatal period as well. Pelvic floor muscles which are weakened, torn or cut (such as with an episiotomy) by childbirth and nerve damage somehow associated with childbirth can all contribute to continued incontinence after a pregnancy. Performing exercises to strengthen the pelvic floor muscles, most commonly known as Kegel exercises (stopping urine midstream or otherwise tightening the pelvic floor muscles), can help to alleviate incontinence. Women who are still experiencing incontinence two months after giving birth may want to contact a medical professional for further information.
Incontinence during pregnancy is relatively common though many women prefer not to talk about what they perceive as an embarrassing condition. Understanding the causes of incontinence during pregnancy, how to treat incontinence during pregnancy and when to expect incontinence associated with pregnancy to end are important to making this condition as straightforward as possible.
You might also like...