What Causes Restless Legs?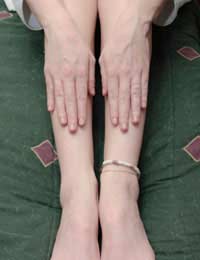 Restless legs can be painful and frustrating to experience, but even more so when others are around to witness your irresistible urge to move your legs. For many people the annoying sensation of needing to move their legs is accompanied by other symptoms and is actually Restless Legs Syndrome (RLS). Understanding the causes of RLS, how RLS is diagnosed and possible treatments for RLS can all help lessen the affects of this often embarrassing condition. Explaining restless legs to others can also help take some of the embarrassment away from the associated symptoms.
Causes of Restless Legs Syndrome
Restless Legs Syndrome if often divided into Primary RLS and Secondary RLS. Primary RLS tends to affect people when they are younger and comes on without any specific cause. Typically symptoms will worsen with age and can be so severe as to routinely interrupt or put off sleep. This kind of RLS may run in families. Secondary RLS is often linked to, and perhaps caused by, other conditions including anaemia, kidney disease, pregnancy, thyroid issues and alcoholism.
Diagnosing Restless Legs Syndrome
Restless Legs Syndrome is usually diagnosed by the presence of four main symptoms. First, a person experiences a strong or irresistible urge to move his or her legs. This urge may also be accompanied by other sensations such as itching, pulling or gnawing feelings in the legs, and may mean that the legs, feet or toes jerk or otherwise move. Another diagnostic symptom is that the symptoms start, or increase, when the person rests. Also, these symptoms are relieved and lessen when the person moves his or her legs. Finally, these symptoms tend to be worse in the evening and possibly particularly when the person is laying down. Often this means that the person's sleep is significantly disrupted and so RLS interferes with his or her life to a great degree.
Treating Restless Legs Syndrome
There is no cure for Restless Legs Syndrome, but there are ways to lessen the severity and impact of symptoms. Exercising regularly, using compression socks or wraps, reducing the intake of alcohol and caffeine, stretching before bed, massaging the legs and applying heat or cold while resting can all help relieve the sensations and movements associated with RLS. There are also medications which may help RLS, including anticonvulsants and dopaminergic agents. These are prescription medications which a doctor will need to deem appropriate for each specific case.
Explaining Restless Legs to Others
Restless legs can strike at any time, so some people find themselves in pain or even jerking or otherwise moving while in the company of others. Offering a simple explanation such as "Please excuse me, I suffer from Restless Legs Syndrome" or "Pardon me, I just need to pace for a little while to relieve my restless legs" should be more than enough to let others know about your symptoms. If you plan to travel with others, particularly if sharing a room with them, then letting them know about your night time symptoms and how you help to relieve them is important for making yourself feel comfortable. Simply let them know that you suffer from RLS and may need to walk around, take a hot bath or massage your legs before bed. As with any medical condition, RLS does require a degree of self-care and taking care of yourself is nothing to be embarrassed about.
Restless Legs Syndrome is a neurological disorder that often includes embarrassing symptoms such as an inability to control the movements of one's legs, feet or toes. Understanding the causes, diagnosis and treatment options of RLS can help people devise ways to deal with these symptoms, and explaining RLS to others may lessen any associated embarrassment.
You might also like...