Recognising and Treating Bunions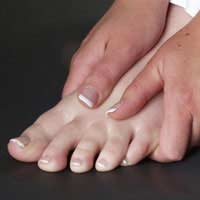 Your Dear Old Auntie Gladys may have been able to predict a turn in the weather when they acted up but for most people bunions are more of a curse than a blessing. If there is a painful, swollen bump in the joint that connects your big toe to your foot – you likely have a bunion.A vast majority of bunions occur in woman. 9 out of 10 bunions seen by orthopedic surgeons or podiatrists are on the feet of women. It is generally believed that this is because women wear tighter fitting shoes than men, and high heels. For the most part that is true, tight shoes can lead to bunions but they do not actually cause them. Bunions are caused by an inherited deformity, a faulty structure in the foot. It is not the bunion itself that is inherited but this weakness or fault. Tight shoes can exacerbate the underlying weakness and cause the bunion to form.
The bunion itself is not really the bump we visually see and refer to as a bunion. The bunion is really below the surface. A bunion starts out with a leaning of the bones of the big toe. As that lean gets progressively worse, and the big toe starts to turn in and point to the second toe, the bones bow or bend out of alignment. The lump on the surface is a reflection of the misaligned bones underneath.
Pain and Other Symptoms
Bunions can be quite painful but that is not their only symptom. Symptoms of a bunion usually will flare up or at least get worse when wearing tight shoes or shoes that crowd the toes – such as most women's dress shoes that taper to a point. Symptoms of bunions other than pain can include:
Redness and inflammation
Numbness or tingling
A burning sensation
As a person changes his or her gait to compensate for the pain of the bunion, calluses on the foot can form, which can also be painful, back pain or sciatica can result from the painful and unbalanced stride. In severe cases bunions can lead to arthritis. Even if a bunion is not particularly painful, it can be a "sore point" for women, who feel they make their feet ugly and unattractive. Also bunions prevent many women from wearing fashionable shoes.
Treatment for Bunions
Most bunions can be treated without the need of surgical intervention. The best way to treat a bunion according to foot and bone experts is the same way to prevent them - through wearing proper footwear. Never force your feet into shoes that are too tight. Select shoes that mirror the shape of your foot. Wide soles and soft insteps are best. Sorry ladies those stilettos are a no-no. To avoid bunions orthopedists and podiatrists recommend not wearing heels any higher than 21/4 inches. If a bunion has already developed be sure to wear shoes that do not put any additional pressure on it. You may need to have a shoemaker stretch your shoe, or pads may help.
More extensive treatments foe the bunion may include:

The use of Non-Steroidal Anti-Inflammatory drugs (NSAIDS) to relive pain and swelling
Ice packs
Orthotic devices
Injection of corticosteriods
If your bunion has progressed to the point where it is too painful and difficult to walk despite wearing roomy shoes, then surgical intervention may be necessary. Orthopedic surgeons have several very effective techniques to surgically realign the nerves and bones of the foot and toe and correct the bunions. Many of these procedures can be done on an outpatient basis under local anesthetic. People who have had bunions treated surgically report very successful outcomes. Once the surgery is done, and good foot care is practiced bunions rarely return.
You might also like...
Big toe of left foot . Aches sometimes but better when I weartrainers ( with special insoles) . Please recommend treatment to lessen the ache
dicky
- 8-Jul-14 @ 10:55 AM