Irritable Bowel Syndrome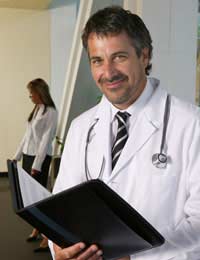 Irritable Bowel Syndrome also known as IBS can be a very uncomfortable condition. Fortunately IBS rarely causes any permanent medical harm and it does not lead to any kind of serious illness such as cancer. However for those with the condition the bloating, abdominal pain, diarrhea and constipation that accompany Irritable Bowel Syndrome, can certainly cramp ones lifestyle. IBS is actually one of the most common conditions diagnosed by doctors. IBS effects more women than men. The symptoms of IBS for the most part can be controlled through lifestyle changes and medications. However, for some Irritable Bowel Syndrome, can be a truly debilitating condition. Many people with severe cases of IBS lose time at work, or school, and find it very difficult to socialize.
Symptoms of Irritable Bowel Syndrome
Because Irritable Bowel Syndrome, is just that a "syndrome" and not a specific disease, the symptoms can be quite varied. Symptoms usually include bloating, abdominal pain, and stomach cramps. Some people with Irritable Bowel Syndrome have a very difficult time with regular bowel movements and are chronically constipated, passing very hard stools if at all. On the other hand there are those with Irritable Bowel Syndrome, that experience the other end of the spectrum and are plagued with constant diarrhea or loose watery stools. Then there are those with the condition that just vacillate between both diarrhea and constipation. Sometimes symptoms go on for months at a time, then subside only to reappear. Persons with IBS can also experience spasms of the colon, where the muscles of the intestine contract uncontrollably. The condition has also been referred to as "spastic colon".
How is IBS Diagnosed?
The symptoms of IBS can mimic several other more serious conditions such as Celiac Disease or Crohn's Disease. It is important that if you are experiencing the symptoms of IBS you see a physician for proper diagnosis. If it is Irritable Bowel Syndrome, it can usually be treated very easily. Should your symptoms be indicative of some other disease or condition, it is critical to get a proper diagnosis. There is not a specific test for IBS. The diagnosis is done through the taking of a compete medical history. Various diagnostic tests would then be taken to rule out other conditions such as:
X-rays
Blood Tests
Stool Samples
The doctor may recommend a colonoscopy – a look inside the colon to rule out cancer, polyps, or other colorectal diseases After all the test are performed and they comeback negative for known conditions, you will likely be diagnosed with Irritable Bowel Syndrome.
Treatments for IBS
There is no cure for IBS, but there are many ways to treat the symptoms and live with the condition. Since the symptoms of the ailment vary from individual to individual, your doctor will outline a course of treatments and lifestyle changes that will best help you manage your particular manifestation of Irritable Bowel Syndrome. Treatments may include:
Antispasmodic Medications
Antidiarrheal Medications
Laxative and Stool Softeners.
Antidepressants and sedatives – as in some individuals IBS seems to be brought on as an autoimmune reaction to stress.
Dietary changes – your doctor will work with you to find and avoid foods that seem to trigger attacks. Increased fiber intake may be recommended.
It is very important to understand that IBS is a "syndrome" – a collection of signs and symptoms with undetermined etiology –and not a "disease". It therefore hits different people very differently. It is important that you work with your healthcare practitioner to work out a specific treatment plan that best addresses your symptoms.
You might also like...