Corns: Prevention and Treatment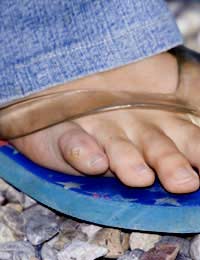 Of all of the animal kingdom only human beings spend most of their time walking erect or standing upon two feet. While our two-legged gait may have led to all that we have achieved we can also thank it for backaches and foot problems. Among them corns.
Corns are caused not so much from walking or standing per se, as they are by what we put on our feet while doing so. Corns are hard calluses that form on the toes when the bones push up against a shoe and they are put under pressure. Most people take several thousand steps every day. It has been estimated that walking puts the equivalent pressure on feet of 2 to 3 times your body weight. Put that kind of pressure against the surface of the skin pressing up against a shoe, and the skin thickness causing a hard callus that irritates the tissues below the skin. The result we call a corn. Corns can be hard or soft. A hard corn is the type most people think of when they think of corns. A hard corn usually develops on the top of a toe, most often the small toe. Soft corns look more like open wounds and usually develop between the toes.
Why Are They Called Corns?
Corns are a callus. The more technical term for a corn is a Clavi. The thick calluses that form on the surface of toes in response to pressure have come to be referred to as corns because of the way the look under a microscope. The hard center of the callus resembles a kernel of barley. Years ago all grains were called "corn" and the name just took hold. Corns are most often caused by:
Improperly fitted shoes
Direct Pressure form a stitch or seam in a shoe
Toe deformities such as hammer toes
High Heels which cause more pressure on the forefront of a shoe
Prevention and Treatment
As with other foot problems such as bunions, or athlete's foot, the best way to treat corns is to avoid getting them. Doctors recommend you prevent corns by wearing properly fitted foot ware and avoid socks that bunch up creating pressure points.
Corns can be painful, and left untreated they will only get progressively worse. Even if they are not particularly painful they can be unsightly. Once a corn has formed there are several methods to reduce or eliminate them. The most common practice done by a podiatrist in the office to reduce a corn is to physically shave them down using a scalpel. Of course the doctor will recommend different foot ware if he or she feels that is the root of the problem. If the doctor discovers that the cause of the corn is due to an underlying deformity in the bones of your toes or feet, he may prescribe certain orthotic devices to try to realign the bones. In some cases the bones can be realigned surgically. Such surgeries are usually performed in the office.
Corns can be of particular concern to people with diabetes. Diabetic neuropathy or a lack of sensation in the feet due to poor circulation is the number one cause of limb loss in diabetics. Since a diabetic may not feel the pressure in the feet that is causing the corn, and therefore will not react to the pain, the corns can get progressively worse developing an open wound that will not heal. It is such wounds that often lead to an amputation of the lower limb in a diabetic. It is therefore critically important that diabetics inspect their feet regularly for corns or other ulcerations, and have them treated immediately.
Simple Treatment for Corns
In less severe instances of corns where medical intervention is not necessary foot care specialist recommend the following at home care for corns:
Soak your feet regularly to soften calluses
Use a pumice stone reduce callus
Corn pads (the non medicated kind are recommended)
Wear roomy shoes
You might also like...