Foot Odour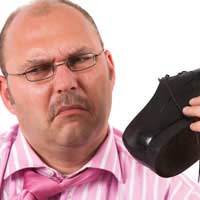 Avoiding Stinky Feet
Let's face it foot odor can be offensive and embarrassing. Yet foot odor is very common. Even people who are otherwise well groomed, and sweet smelling, can develop a powerful foot odor merely by running a few miles in a pair of shoes. And the so called fairer sex is not immune to the problem, men and women both have been known to sport a powerful foot odor. Believe it or not even children can have stinky feet.
Why do Feet Smell?
So what is about feet? Why is it that no matter whom we are or how hygienic, we can have smelly feet? Actually it is not so much about feet as it is about what we put them in?
Shoes - shoes once again are the culprits as they are with so many foot problems. You see the root cause of most offensive foot odor problems is sweat. Because as a culture we frown upon going about barefooted, we clothe our feet in shoes and socks. Then with our feet thus crowded into such a close fitting environment we spend our day running, walking, or standing upon them; making our feet sweat, sometimes profusely. In fact feet have more than? There are a million sweat glands in each foot, more than any other part of the body. A single foot during a normal day's activity can produce more than one-pint of sweat.
Actually what we refer to as the smell of sweat is not sweat at all. Perspiration in and of itself is nothing more than salt and water, it has no smell. It is the bacteria on the surface of the skin that causes the offensive smell from sweating. As unpleasant as this sounds, the bacteria feed on the sweat, and then excrete waste products. It is the bacteria's waste that we smell. Now you are saying that other areas of the body sweat, how come the hands for example do not give off the same kind of offensive odor? Hands have almost as many sweat glands as do feet. Again it is because the other areas of the body are exposed to the air, and that helps to wick sweat away before it accumulates. Feet stuck in shoes and socks do not allow the sweat to readily evaporate, instead it accumulates providing a damp moist place that bacteria love.
Eliminating or Reducing Foot Odor
Since now that we understand that foot odor is actually caused by sweat and bacteria, it would seem obvious how we control foot odor:
Reduce the amount of bacteria on the surface of feet
Reduce the amount of sweat produced by the feet
To reduce the amount of bacteria on your feet wash them regularly using a strong anti-bacterial soap. Wear clean socks everyday. If possible try not to wear the same pair of shoes everyday. Switch off giving a pair of shoes at least a day to air out? and the existing bacteria within them to die off.
You can reduce the amount of sweat accumulated in your shoes and socks by:
Wearing well ventilated or open toe shoes
Always wear clean socks, preferably made of cotton or other absorbent materials
Change Socks after rigorous activity
Absorbent foot powders can help, as can charcoal activated inserts such as Odor Eaters
Other home remedies suggested for offensive foot odor include:
Soaking feet in salt water
Applying underarm antiperspirants to the feet
Apply cornstarch to your shoes
Modify your diet to include less smelly foods like garlic and onions, the same enzymes that give these foods their distinctive odors can accumulate in sweat.
If none of these methods seem to improve a foot odor problem, see your doctor ? there are prescription medications that can be used to effectively combat the bacteria that cause foot odor.
You might also like...
Hi Steven , good read -thanks now a days there is no need to do so many things to control foot odor. you can just start wearing Silver socks (socks with embedded silver Yarns). Silver reacts with bacteria's metabolism and does not allow them to regenerate. These socks have these properties pemanently embedded and do not reduce over washing. These are great socks. isn't it simpler ?
Praney
- 18-Sep-15 @ 1:38 AM