Athlete's Foot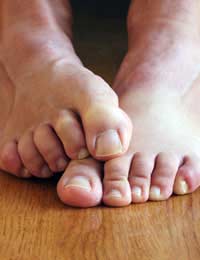 You do not have to have ever hit a ball or run for the goal line to have athlete's foot. In fact athlete's foot is second only to acne as the most common skin disorder there is. Tinea Pedis the technical term for athlete's foot is a common fungal infection. It is usually caused by mold, but it can be a yeast infection as well. Fungus like warm damp, dark places. Feet clothed in shoes and socks create an environment that is a paradise for fungi. The athlete's foot is an infection caused when the mold or fungus that grows on the surface of the foot actually grows into the skin itself. Athlete's foot most commonly grows between the toes. Itching, cracking, sometimes swelling, inflammation and a burning sensation most often accompany athlete's foot. Athlete's foot can spread to other parts of the body, most notably the groin, where it takes on another locker room moniker, Jock Itch.
While far from life threatening, athlete's foot in its mildest form can be very annoying, sever cases can be quite painful. Due to the cracking that can result and expose the skin of the feet, a secondary bacterial infection can come with severe athlete's foot, and may require oral antibiotics.
Prevention and Treatment
The best way to treat athlete's foot is to avoid getting it in the first place. It not so easy to avoid contact with the fungi that cause athletes foot, since they live in abundance in showers, swimming pools, bathrooms and other damp places. However by practicing good foot hygiene, exposure can be limited and the condition avoided. Podiatrists suggest to minimize exposure to athlete's foot you should:
Always keep you feet and footwear as dry as possible
Take measures to reduce mold and fungi in your home. Keep bathrooms as dry as possible and clean showers and bathtubs with anti-fungal and disinfectant products
Wash towels and socks regularly at high temperatures
Do not share towels and socks
Change sheets and bedding at least once per week
Wash your feet thoroughly especially between the toes – some foot care specialists even recommend drying feet with a blow dryer to be sure they are dry
If you have had the athlete's foot infection before, or feel you are in an environment where exposure is likely, you may want to spray shoes with an over-the-counter athlete's foot spray
In public showers or restrooms always wear shoes.
Wear light weight socks and open shoes whenever possible to reduce sweat
If wearing open shoes is impractical, use foot powder to reduce sweat. Some foot powders contain an anti-fungal ingredients
Always change your shoes and socks after rigorous exercise
Replace the insoles of sneakers and shoes often
Treatment
Again most medical professionals agree that the best treatment for athlete's foot is good hygiene. Most cases that develop can clear up on their own by practicing the good hygiene suggestions above. However there are many effective conventional and even alternative treatments that are useful to kill athlete's foot fungus.
Coupled with the good hygiene methods mentioned the most effective treatment for athlete's foot involve the application a topical anti-fungal cream, spray, or powder. There are effective over-the-counter anti-fungals which contain a variety of anti-fungal ingredients: Mirconazole Nitrate (Monistat) Tolnaflate (Tenactin, Desenex, and others), Terbinafine (Lamasil) and Butenafine Hydrochloride (Lotrimin) all have proven to be effective. In more extreme cases a doctor or podiatrist may recommend a prescription anti-fungal. If the infection is accompanied by a secondary bacterial infection additional antibacterial cream or oral antibiotics may also be needed. It is not recommended that you apply any anti-itch cream to athlete's foot. It may alleviate the symptoms of the itch but most such creams add moisture to the skin which will only allow the fungus to thrive.
If you are not a proponent of drugs and conventional medicine there are several naturopathic or alternative treatments that have been suggested for treatment of athlete's foot. These include:
Application of topical oils such as Tea Tree Oil or Crocodile Oil
Household Bleach
Onion Extract
Rubbing Alcohol
Hydrogen Peroxide
You might also like...